Click here for a no obligation instant tire quote on the exact tires for your vehicle!
Need Tires? We can help. Your Toyota Tire Center is the one-stop tire shop for all your tire needs.
At New Country, we know your time is valuable. That's why your New Country Toyota Dealership is making tire maintenance, replacement and service a top priority for busy customers like you. Now, you can take advantage of the convenience, selection and service your Toyota Tire Center offers without having to make a special trip to the tire store.
The next time you are in for routine maintenance or service, ask your New Country Service Adviser to check your tire pressure and perform a visual inspection of you tires. If they notice any signs of unusual wear, they can assist in recommending a course of action for you and your vehicle.
When you purchase tires from New Country, the tires are backed by the tire manufacturer's warranty and serviced through your Toyota dealer.
At New Country, we're committed to helping you maintain your Toyota vehicle from the ground up.
Toyota Tire Center - Tires where you need them. When you need them. At a price you can afford.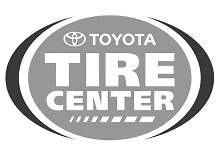 In case you're curious, there are 7 factors that go into matching tires to your specific Toyota model and year:
Size
Speed Rating
Load Rating
Tread Wear Rating
Traction Rating
Temperature Rating
Overall Brand Quality