Toyota Models Requiring Non-Synthetic Motor Oil
The best possible value and quality care for your Toyota.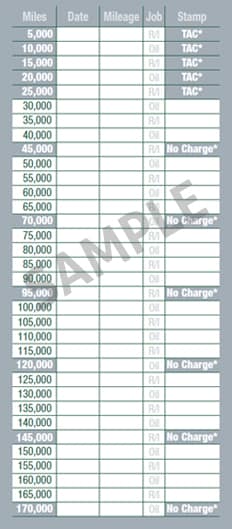 Safety
Reliability
Performance
Value
Convenience

Savings for the lifetime of your Toyota. Save 10% on parts and labor. Qualify for free maintenance services. At your convenience, free tire pressure check and adjust if required, top off windshield washer fluid and inspect engine oil level anytime during normal business hours. Just drive in.
Our recommended service intervals follow Toyota maintenance guidelines and recommendations which are every 5,000 miles or 6 Months (whichever comes first) to ensure the highest possible levels of vehicle safety, performance and reliability as well as compliance to manufacturer warranties and extended service contracts.
We use only the highest quality lubricants, oils and parts which meet manufacturer requirements.
All parts carry full manufacturer warranties for parts and labor.
Nobody knows your Toyota better. All technicians are factory trained and certified using the latest manufacturer approved equipment to provide the highest possible standards of repairs and services.



Program Disclosures & Requirements
All previous services must be performed in full as per the service menu by the selling dealer to qualify for any services marked as No Charge as verified by the dealer records. Incomplete, partial services or oil change only are not eligible to be credited as a qualifying service. Services indicated as "No Charge TAC", are covered under "Toyota Auto Care" which provides complimentary services up to 25,000 miles or 24 months. (Please note: TAC expires at 24 months from the vehicle purchase date or 25,000 miles, whichever comes first. Refer to your owner's manual for more details. Service Plus will not cover unused TAC services.)
Eligible and qualified No Charge services include the base service for the given interval. Oil Services are indicated by Oil in the job column and include a Tire Rotation and Toyota Multi-Point Inspection. Oil service intervals are every 10,000 miles, every fifth is at no charge if all previous services were completed. Tire Rotation and Inspection intervals are every 5,000 miles, every fifth Tire Rotation is performed at the indicated interval at No Charge when all previous Services have been completed. Other items recommended by the manufacturer or dealer are not included however they do qualify for the VIP discount.
Discounts apply to any recommended maintenance service and or repairs and may not be combined with any other discounts or coupons. Discounts are not applicable to:
Previously discounted items which may include but are not limited to tires, certain accessories.
Insurance or Extended Warranty deductibles or any body shop work.
Previously purchased parts or services for credit or reimbursement.
To qualify for the $500.00 trade-in coupon* all services must have been completed from the time of sale up to the current vehicle mileage at trade-in. A minimum of nine (9) consecutive Factory Maintenance Services must have been completed including the No Charge services. The credit only applies when the covered vehicle is traded-in on a new or used vehicle purchased from your selling dealer. Program fees or unused portions of the program are not eligible for reimbursement. Program and benefits apply to the designated vehicle only.
It is the vehicle owner's responsibility to present the VIP customer folder at the time of service to ensure the date, mileage are recorded and stamped by a qualified service advisor. The advisor is to initial over the stamp.
The dealerships reserve the right to verify completion of prior services using vehicle history files.
*$500 Trade-In Coupon applies to VIP Blue and Green service programs only.